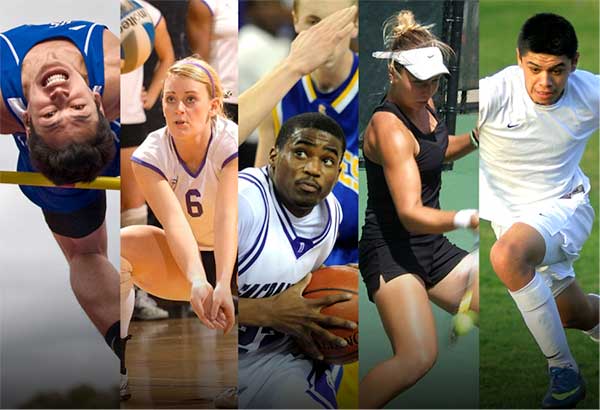 College Exposure Services
Only 5% of HS student-athletes receive multiple scholarship offers. The remaining 95% are "sleepers" - talented student-athletes who are simply under the radar do to a lack of consistent exposure. With PrepStar you don't have to wait to be discovered! PrepStar evaluates your son's or daughter's academic and athletic abilities, GPA, test scores (SAT +/or ACT), highlight video, and preferences, and more - then sets into motion the most comprehensive, proven, and powerful recruitment machine ever developed, including:
Student-Athlete Player Profiles
Expert produced Video Highlights
E-Profile Targeted Marketing Campaigns
Targeted Mail Campaigns
Dedicated Recruiting Experts
Relationship Marketing - More than 30 Years of Personal Relationships Through our proven maximum exposure program and one-to-one relationships, PrepStar has achieved a remarkable 95% success rate in helping qualified college-bound student-athletes get scholarships and financial aid for college.
Your recruiting profile is just a click away!
GET STARTED
Success Stories
Emily Linn

Just wanted to give you an update on Emily. She has signed a NLI with the University of Hartford to play for them next year and she received a full scholarship worth $29,000. They are a division1 team in the America East Conference. Emily received other offers from the University of Akron, Elon University and Queens University of Charlotte. She chose Hartford based on the scholarship award, proximity to our home, great business school and a very good coach. The Hartford offer was last minute and we only just made the early signing deadline. The Hartford coach learned about Emily through the CSA-PrepStar profiles you sent out.
Chuck Mcdade

We started with CSA-PrepStar in the Middle of December 2006. Chuck signed on February 7th 2007, for a 100% Full Ride Scholarship with Nicholls State a Division 1-AA College in the Southland Conference! We had our pick of Colleges to choose from for his Campus Visits! All the Colleges he visited offered him 100% Full Rides. I was so very worried when we starting so late in his Senior Year. We knew we had to make some aggressive move s really fast. CSA-PrepStar changed everything for him. Within 2 weeks we started getting phone calls and e-mails! It was the most wonderful thing to see happening. That is one of the Best Tools to use on CSA-PrepStar to get your child out there and seen. This has been the greatest experience ever. I would highly recommend CSA-PrepStar and advise parents to please start in their Child's Junior Year if not sooner.
Read More