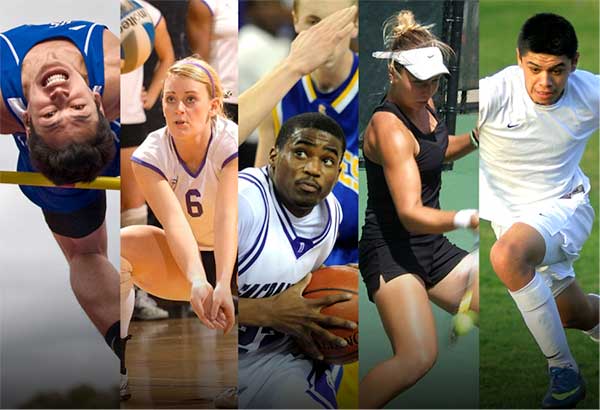 College Exposure Services
Only 5% of HS student-athletes receive multiple scholarship offers. The remaining 95% are "sleepers" - talented student-athletes who are simply under the radar do to a lack of consistent exposure. With PrepStar you don't have to wait to be discovered! PrepStar evaluates your son's or daughter's academic and athletic abilities, GPA, test scores (SAT +/or ACT), highlight video, and preferences, and more - then sets into motion the most comprehensive, proven, and powerful recruitment machine ever developed, including:
Student-Athlete Player Profiles
Expert produced Video Highlights
E-Profile Targeted Marketing Campaigns
Targeted Mail Campaigns
Dedicated Recruiting Experts
Relationship Marketing - More than 30 Years of Personal Relationships Through our proven maximum exposure program and one-to-one relationships, PrepStar has achieved a remarkable 95% success rate in helping qualified college-bound student-athletes get scholarships and financial aid for college.
Your recruiting profile is just a click away!
GET STARTED
Success Stories
Kristin Holmes

My daughter Kristin is a promising Track & Field athlete at Claremont High School. In May 2004 near the end of her junior year, Kristin signed on with CS A and the results have been overwhelming! Kris has been contacted by over 40 Division I schools, several offering full scholarships. Kristin has four official visits scheduled on consecutive weekends October through November and will be attending the University of her choice next year. In addition to a very informative and professional profile mailed to schools in virtually every region of the country, the profile can also be viewed on the CSA-PrepStar website. I would urge any parent to enlist the help of CSA. They really know how to put kids on the scholarship radar screen!
Nate Ustianowski

Yesterday I received a phone call from the Alpha Academic Program Director at Abilene Christian and they have made recommendation to admissions for Nate to be accepted to ACU... no matter what his SAT score comes in at. It won't have the official until I get the call from the admissions office, but when I do, Nate has made his choice to ACU. Carson-Newman has also been in contact with us and Nate is in the process of being accepted there as they want him too. So, pl ease don't send out any further emails as the letters tend to be a bit overwhelming. Nate must have received contacts from over forty schools. Nate is thrilled!
Read More