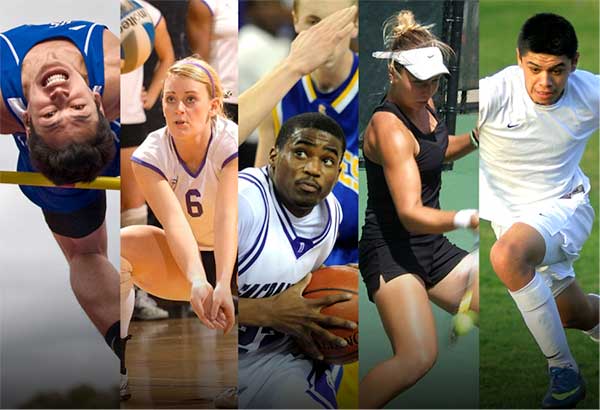 College Exposure Services
Only 5% of HS student-athletes receive multiple scholarship offers. The remaining 95% are "sleepers" - talented student-athletes who are simply under the radar do to a lack of consistent exposure. With PrepStar you don't have to wait to be discovered! PrepStar evaluates your son's or daughter's academic and athletic abilities, GPA, test scores (SAT +/or ACT), highlight video, and preferences, and more - then sets into motion the most comprehensive, proven, and powerful recruitment machine ever developed, including:
Student-Athlete Player Profiles
Expert produced Video Highlights
E-Profile Targeted Marketing Campaigns
Targeted Mail Campaigns
Dedicated Recruiting Experts
Relationship Marketing - More than 30 Years of Personal Relationships Through our proven maximum exposure program and one-to-one relationships, PrepStar has achieved a remarkable 95% success rate in helping qualified college-bound student-athletes get scholarships and financial aid for college.
Your recruiting profile is just a click away!
GET STARTED
Success Stories
Jessie Lucier

My name is Jessie Lucier and I am currently a freshman at Harvard University. Last year CSA-PrepStar Prepstar helped me get into the college of my choice. CSA-Prepstar aided me in the recruiting process for women's pole vaulting to get the attention of a number of schools. I chose Harvard and have just finished a successful freshmen year pole vaulting on the Crimson track team. Thanks for all your assistance and I hope others that use your service are as happy as I was.
Chris Minck

Just thought you would like to get an update on Chris. He is starting for Kenyon College basketball at the point guard position. So far, a very young team is off to a slow start but Chris is averaging about 25 minutes /game, 5.4 pts and has an assist to turnover ratio of 24 a assists /15 t/os , best on the team. In addition, fall baseball went very well and he will be playing baseball at Kenyon as well and ha s a chance to be the starting CF. As you know Kenyon found Chris through CSA , so once again thanks since he is having a great time , getting a super education and still playing ball.
Read More