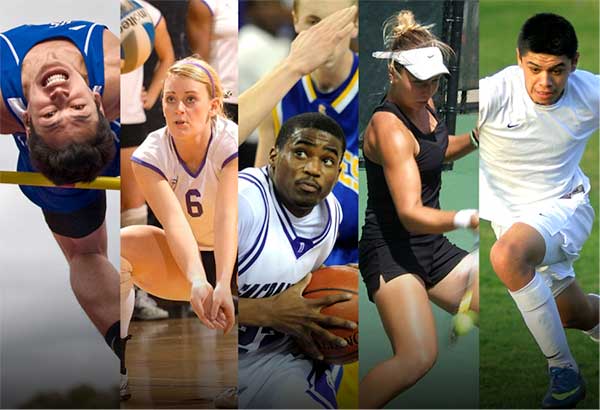 College Exposure Services
Only 5% of HS student-athletes receive multiple scholarship offers. The remaining 95% are "sleepers" - talented student-athletes who are simply under the radar do to a lack of consistent exposure. With PrepStar you don't have to wait to be discovered! PrepStar evaluates your son's or daughter's academic and athletic abilities, GPA, test scores (SAT +/or ACT), highlight video, and preferences, and more - then sets into motion the most comprehensive, proven, and powerful recruitment machine ever developed, including:
Student-Athlete Player Profiles
Expert produced Video Highlights
E-Profile Targeted Marketing Campaigns
Targeted Mail Campaigns
Dedicated Recruiting Experts
Relationship Marketing - More than 30 Years of Personal Relationships Through our proven maximum exposure program and one-to-one relationships, PrepStar has achieved a remarkable 95% success rate in helping qualified college-bound student-athletes get scholarships and financial aid for college.
Your recruiting profile is just a click away!
GET STARTED
Success Stories
Caitlin Winey

Caitlin gave a verbal commitment last night to Arkansas State University for a 4 year full-ride track and field scholarship. She absolutely loves the school and I can say for sure, that it would not have been on our radar at all. Arkansas was one of the schools recruiting her that received their info on Caitlin from you. Although Caitlin did get a few partial-ride offers from coaches who saw her at the state meet, the majority of recruitments came to her through CSA. Her best scholarship offers all came from schools who received profiles from you. The fee we paid CSA-PrepStar has turned into an $80,000 gift to our family.
Jayln SNell

I will be attending Gardner-Webb University in North Carolina Div-1 program . I will receive $20,000 per year for soccer, and $8,500 per year for academics Coach Varga reached out to me after seeing my Prepstar profile. We exchanged information he spoke to my club coaches sent his assistant to Arizona to watch me play in a showcase. After my last game I met Coach Sam who offered me a spot on the team and a scholarship. I flew out to the campus in early December to meet coach Varga and the staff as well as the team and tour the campus. A week later I verbally committed to Gardner-Webb University and play soccer for their program. Thank you to the staff at Prepstar who help me achieve my dreams of playing at the next level!!!
Read More