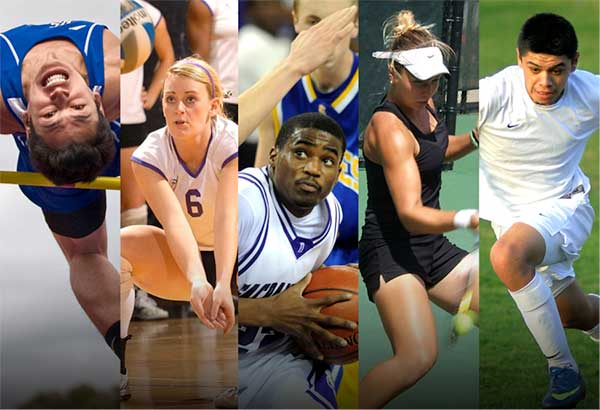 Golf, Swimming, Tennis, Track & Field, Field Hockey, Ice Hockey, Bowling, Wrestling
Collegiate Sports of America - PrepStar has helped over 75,000 student-athletes achieve athletic and academic scholarships in 23 college sports. Since 1982, over $2.5 Billion in scholarships have been awarded to our qualified high school athletes. By leveraging our network of 2,000 colleges and universities, 32,000 college coaches, and more than 30 years of personal relationships, we have a 95% success rate creating college opportunities, athletic scholarships, financial aid packages, preferred walk-ons as well as national and regional exposure for our student-athletes!
PREPSTAR ALUMNI

Your recruiting profile is just a click away!
GET STARTED
Success Stories
Mike Vandenberg

Mike has a full scholarship offer from New Mexico and a 'grey shirt' offer from Boise State, meaning the scholarship starts January 2006. That's 2 D1 scholarship offers. Eastern Washington and Cal Poly SLO have offered partial scholarships (55-65%) they are both D1-AA schools and can split scholarships. Humboldt Stat e has also offered a partial scholarship (25-30%) they are a D2 school. Mike has official trip offers from New Mexico, Boise State, Easter n Washington and Cal Poly. We had a few discussions with San Jose State. They do not have a scholarship for Mike but like him very much. If he 'walked on' this year, he would get a scholarship next year. Thanks for all the help you gave Mike and our family.
Caitlin Colesanti

Caitlin committed early decision to Williams College. As you know, her strategy was to leverage athletics for the best academic opportunity. As it turned out thanks to you and CSA, Caitlin had a number of great opportunities in all Division's and was being seriously pursued by Yale, UPenn, Middlebury, Holy Cross, Johns Hopkins, Elon, Mercer, Iona, Hamilton, Sacred Heart, Rider, Carnegie Mellon and Swarthmore. From this list her top 5 were Williams, Yale, Johns Hopkins, Holy Cross and Middlebury and sh e did the official visits. South Carolina, Albany, Pace and others expressed serious interest. She was still receiving calls from coaches as of last night as a result of the last CSA-PrepStar posting. We think she made a great decision and are extremely proud.
Read More