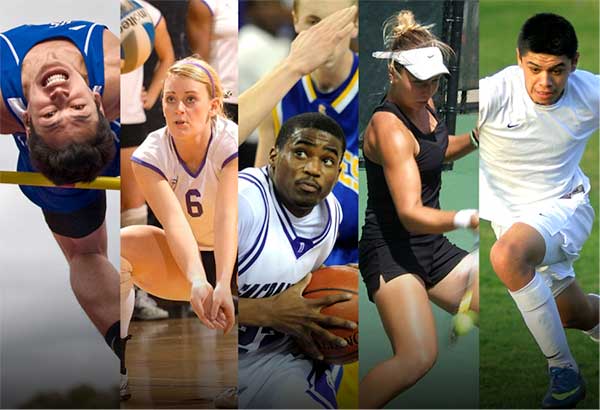 TOP 10 RECRUITING MYTHS
I am being recruited because I am receiving letters from colleges.
Hate to break it to you but thousands of other kids are getting the same exact letter as you are. You are in their database which is cool but that does not qualify as being recruited. When you get a real recruiting letter (not just an invite to their camp) you will know the difference.
I am the best player on my team so coaches will find me.
As recruiting budgets continually get cut, college coaches have fewer staff and financial resources to find you, even more so if you are a little off of the beaten path.
I have got until my senior year to get the recruiting process started.
Wake up, look around, and see how many kids on your team the past three seasons that did not start the recruiting process early (in their frosh, soph, or early in their junior year) are playing at the next level.
If I am not a top player, I can not get recruited.
Nothing could be further from the truth. The key to getting recruited is setting realistic expectations on what level you can actually compete at athletically and academically then getting (and staying) on the staff radar by consistently providing them relevant information to evaluate you (like highlights, grades, test scores and stats).
My coach has a bunch of connections so I am all set.
That is great. You should leverage every opportunity you can to get additional exposure. That said, it would not be wise to put all of your eggs in this basket, or any basket for that matter.
I am an awesome player so my bad grades are no big deal.
Wrong. The first thing any college coach at any level looks at is your grades to see if you qualify academically before they invest time any amount of time evaluating your athletic ability.
I do not need a highlight video, my stats are enough.
After coaches look at your grades and test scores to see if you qualify academically, your highlight video is the single most important thing a coach needs to see in order to evaluate whether or not you are a potential fit for their program - and the highlight film needs to be short and sweet and create instant WOWs - or they are off to the next kid.
Coaches look at the highlight CDs my dad mails out.
Back in the pre-Internet days this was absolutely true because there was no other way, besides going to a game, to get a look at an athlete. The Internet has changed the recruiting playing field forever and technology has made it so simple (a click of a mouse) to evaluate 10 times the number of kids in the same amount of time it took to view one. Sorry dad.
I am doing combines, camps and showcases which is getting me plenty of exposure.
This is in fact true if you are placing in the 95th percentile. You will absolutely get additional exposure which will help you get on the radar of more schools. That said, the truth is that the majority of student athletes competing at these types of events gain little to no benefit in the recruiting process, in fact, if you do poorly, your times and performance are non-erasable from the Internet.
My team plays in a tough division so scouts will discover me.
This does not exactly sound like a recruiting plan. Yes, you may in fact get lucky, but the law of averages is not on your side. Too many athletes from top teams in their STATE fall under the radar so why would you just happen to be the lucky one who lands the scholarship?
Your recruiting profile is just a click away!
GET STARTED
Success Stories
Nate Ustianowski

Yesterday I received a phone call from the Alpha Academic Program Director at Abilene Christian and they have made recommendation to admissions for Nate to be accepted to ACU... no matter what his SAT score comes in at. It won't have the official until I get the call from the admissions office, but when I do, Nate has made his choice to ACU. Carson-Newman has also been in contact with us and Nate is in the process of being accepted there as they want him too. So, pl ease don't send out any further emails as the letters tend to be a bit overwhelming. Nate must have received contacts from over forty schools. Nate is thrilled!
Caitlin Winey

Caitlin gave a verbal commitment last night to Arkansas State University for a 4 year full-ride track and field scholarship. She absolutely loves the school and I can say for sure, that it would not have been on our radar at all. Arkansas was one of the schools recruiting her that received their info on Caitlin from you. Although Caitlin did get a few partial-ride offers from coaches who saw her at the state meet, the majority of recruitments came to her through CSA. Her best scholarship offers all came from schools who received profiles from you. The fee we paid CSA-PrepStar has turned into an $80,000 gift to our family.
Read More